Fcrackzip windows tutorial. Cracking ZIP files with fcrackzip
Fcrackzip windows tutorial
Rating: 7,1/10

110

reviews
Cracking ZIP files with fcrackzip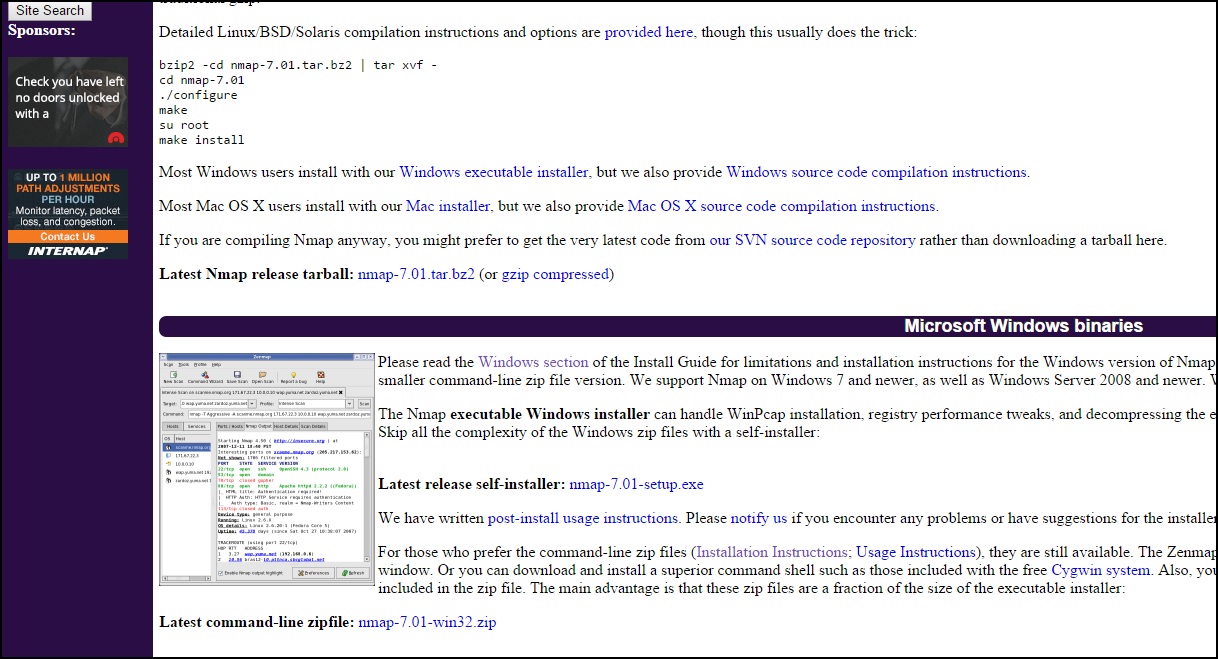 When you research zip password recovery topics on the Internet you get loads of commercial products, but barely any free products that are updated regularly. This weeds out false positives when not enough files have been given. He had zipped important files a few years ago and used a password to protect them. For example if the password is of 6 in length and it only contains digit, than these conditions can be defined in the application so that it can use only digits and exclude alphabets and symbols from its dictionary and searches only for 6 digit password, which increases the speed of searching. But it is not impractical, as with some software it is possible.
Next
Zip Password Recovery with FCrackZip « WTI NewsBlog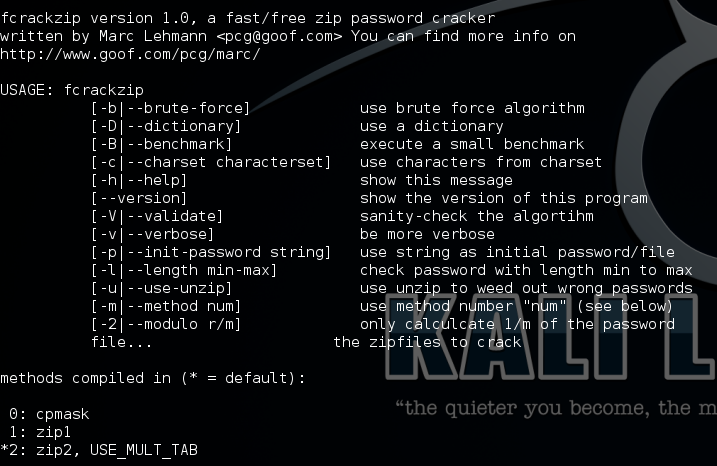 You can follow any responses to this entry through the feed. . It is for instance not possible to run a benchmark. So, if you have few hundred passwords in your dictionary list, then you have less chances than a file having few thousands passwords. You should then have a password protected Zip file to use for further testing.
Next
FcrackZip
They actually support a Windows binary version which syntax should be identical to what your about to read. Overall I think this is a great little tool. This archive was originally copied from The original program spawns an external unzip binary when checking password guesses with the -u option. The cpmask crack method can be used to brute-force these images. The starting password given by the -p switch determines the length.
Next
How to crack encrypted zip file password using fcrackzip
Add to , , , , Post tags: , , , , Tags: , , , , This entry was posted on Friday, May 20th, 2011 at 9:56 am and is filed under. If you use the --benchmark option fcrackzip will tell you how many passwords per second can be tried on your machine so you can pick the fastest option. Although this method is very slow as because all combination are to be checked. But when dictionary file grows too big, the overall attack turns into bruteforcing rather than dictionary which have selective passwords. Now I have cracked protected Zip files in the past on Windows using a few tools some friends of mine made, but I had never done it since I had moved to my new Linux setup.
Next
Tuotrial of Fcrackzip How to crack zip password
Not to mention, if you have around a million passwords in your password dictionary file — then chances of success are more. It allows you to recover lost passwords to your zip files and has multiple ways of doing so and can find the best way to do it on your system. I decided to make a little tutorial out of the whole incident for anyone interested or in a similar situation. In this tutorial, I am going to give you the solution of this problem. There may be some deeply hidden on the web but those that you find on the first pages of the search results are usually commercial programs. In most of these files the password is actually hidden and can be decoded easily using one of the many available viewer and masking programs, e. The name can also be the number of the method to use.
Next
Tuotrial of Fcrackzip How to crack zip password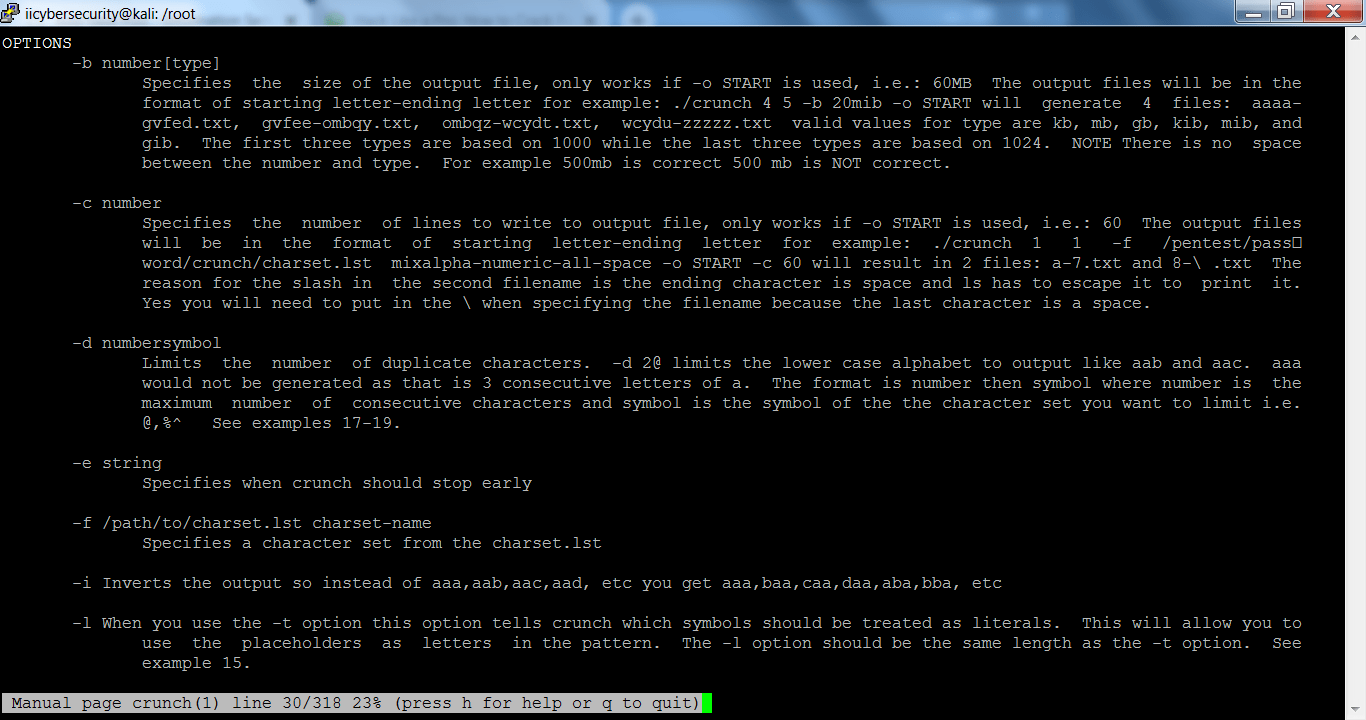 But forgetting is a human nature. The program supports multiple threads to speed up the recovery. Use the keyboard shortcut Windows-r to bring up the run box. Enter cmd and hit the return key afterwards. There is a feature into zip to protect with a password.
Next
Cracking ZIP files with fcrackzip
Both programs are command line utilities that use brute forcing to try all possible character combinations until they find the correct password. I just added -u switch to command, can you explain this? There are not any options currently to limit the length of the passwords to try, but you can modify the currently tested password to start for instance with four characters immediately. That said, if you fail to include a particular character used in the password in the recovery attempt you may not succeed with the recovery even if you let it run months or even years. The cpmask method can only cope with password composed of uppercase letters, so be sure to supply the --charset A or equivalent option, together with a suitable initialization password. I'm not using zip very much, but recently I needed a password cracker. The worst thing was: no source! It's password has 6 lower case characters, and fcrackzip will find it and a number of false positives with fcrackzip -b -c a -p aaaaaa.
Next
Cracking ZIP files with fcrackzip
If you want to use dictionary attack use -D switch. If you convert the image the password, however, is lost. This tries all possible combinations of the letters you specify. For using it on windows, just download it and extract it. So brute forcing time can be reduced by adding some conditions if we know nature of password. First, as with any tool, we start by quickly reviewing the documentation and then the help menu. Because it could take years on a single computer system until the password is recovered.
Next